No one wants to need to call a towing company.
You likely only think about doing so when you find yourself in an extremely inconvenient situation, but a tow truck is often the most practical option if you're in an accident or unable to get your vehicle started. You can either have your car towed home, to a garage where it can be repaired, or to another location that's convenient. 
Emergencies happen 
when we least expect them, and preparation is key to getting through such situations smoothly. It's important to know when to call a towing company as well as the steps you should take in these circumstances. This guide will provide you with all the information you need about when and how to call a towing company.
When Should You Call For A Tow Truck?
Calling a towing company is usually a last resort when you can't get your vehicle started and there's no other option but to call for help. The following are some situations when you might consider calling a towing company.
1. Your Car Won't Start
If your car suddenly stops running or you can't get it started, there are steps you can take. Wait a few minutes and try starting it again. Sometimes, a dead battery is the issue, and you may require a jump start. For such incidents, it is wise to keep a set of jumper cables with you at all times or keep a portable battery charger handy to be prepared. If none of these options work, it may be best to call a tow truck.
2. You Ran Out of Gas
Running out of gas is another possible reason for stalling. Fill up your tank before taking a long trip in case you encounter an area without gas stations, and consider carrying a portable gas tank with a spare gallon or two. If you do find yourself on the road without gas, however, you have to deal with the situation: Calling for a tow truck is a safe option.
3. You Have a Flat Tire
If you have a spare tire and a jack in your vehicle, you may be able to change the tire yourself. This isn't always practical, though. You may have stalled in a place where it's unsafe to work on your car, or the lug nuts may be too tight to loosen with hand tools. Worse yet, you may find yourself with a flat tire and no spare or no jack. In these cases, a tow truck company is your best solution.
4. You've Been in an Accident
Accidents happen, and nobody wants to be in one. However, in the event of an accident, your top priority is to ensure that no one is injured. Call for an ambulance if someone needs medical attention. If the only damage is to your vehicle, it's vital that you don't try to drive the car even if it seems possible. This could be extremely dangerous as a damaged car could catch fire or even explode. It is important that you call a tow truck to let the experts take charge of the situation and assess the damage. Remember, calling a tow truck reduces the risk of further damage to your car and gets you back on the road as soon as possible.
What to Consider Before Calling for a Tow Truck
Once you've determined your vehicle needs towing, you're probably anxious to have it done as soon as possible. However, there are a few things you may need to do before you call a towing company, depending on the circumstances:
1. Consider your location.
If your car won't start in a parking lot or at a friend's house, you have some time to look at it. On the other hand, if you're on the highway or in the middle of a street, you need to get your vehicle out of the way as soon as possible.
2. Towing company or roadside assistance?
If you have roadside assistance through your insurance company, you may be tempted to call them first, but you may be better off to call a towing company. Calling roadside assistance may increase your fees, so it's better to reserve such calls for a true emergency. Roadside assistance is also limited to the person with the account. If you're in someone else's vehicle, your coverage won't apply.
3. Safety first.
If you're in a potentially dangerous spot such as a street or highway, turn on your hazard lights, engage the emergency brake, and exit the vehicle. You and any passengers should find a safe place to make calls and wait for the tow truck.
4. Take pictures.
If you've been in an accident, take pictures of the damage. You'll want a few shots from different angles. If another vehicle was involved, take pictures of the other vehicle as well. It's important to document any damage for insurance purposes or in case there are any civil or legal issues in the future.
5. Call your insurance company.
It's important to find out if your insurance company will cover the cost of towing. It may only cover specific towing providers, so you'll want to find out who to call.
6. Decide which towing company to call.
If your insurance company doesn't advise you which company to call, you need to do some quick research. You can choose a company based on its location and possibly customer reviews if you can find them. For 24-hour towing services in Maryland – give Geyers Towing a call.
7. Ask for an estimate.
You should always ask about the cost of towing. This will depend on the distance to be towed as well as the prices set by the company. It's especially important to know the price if your insurance company won't be covering the charge.
8. Ask about the towing method.
There are two main ways that cars are towed: the hook and chain method, where your vehicle is hooked to a tow truck and pulled to the garage, or the flatbed method, where the vehicle is hoisted onto a truck and driven to the garage. The flatbed method is much safer and less likely to cause damage to your vehicle. If you have a choice, always ask for a flatbed.
9. Decide where to have your car towed.
You'll need to arrange where to have your vehicle towed. If you're close to your house, you may want it towed to your home. If there's a mechanical problem that needs attention, you may want to have it towed to a garage. If you're in an unfamiliar area, you can ask the towing provider for a recommendation for a mechanic. In some cases, the company is also a mechanic and can provide help in this area.
10. Remove documents and valuables from your vehicle.
Be sure to remove anything valuable, including documents, from your vehicle before it gets towed. While most towing companies are trustworthy, it's never a good idea to leave anything important unattended in your vehicle. For one thing, there's the time while you're waiting for the tow truck. You most likely won't be watching your vehicle every second.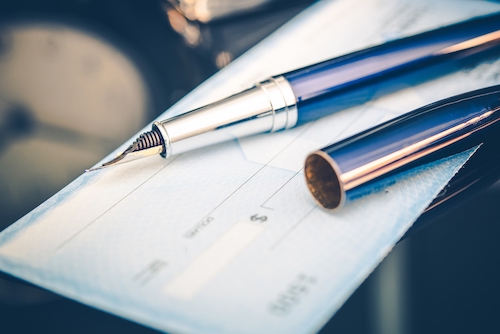 11. Get a receipt.
It's crucial to get an original receipt from the towing company that states the service, time, and amount charged. This will be essential for documenting the charge with your insurance company. Make a copy as soon as possible, then submit the original to your insurance and have a copy for backup.
If you follow these guidelines, you'll have an easier time getting the service you need and avoiding problems in the future. It's important to perform the above steps in the right order, though. For example, you don't want to call a towing company and find out later that your insurance provider doesn't cover the service. While it's often a stressful situation, take a minute to focus and decide what you have to do before acting.
Know When to Call a Towing Company
A towing company can help make a difficult situation easier to get through. You may even want to research towing providers in your area before you have a problem so you know who to call if the need arises. Contact Geyers Towing today to speak with an expert about any towing or car maintenance tips questions you might have.
When you call a tow truck, it is helpful to have the following information ready:
Your location and the location you need the vehicle towed to
A description of the vehicle, including the make, model, and color
The reason for the tow (e.g. the vehicle is inoperable, it was involved in an accident, etc.)
It may also be helpful to have your contact information and insurance information handy.
Here is an example of what you could say when calling a tow truck: "Hello, I need to request a tow truck. My vehicle is a green Toyota Camry and it is currently located at 123 Main Street. I need it to be towed to 456 Second Avenue. The vehicle is not operable. My name is Jane Doe and my phone number is 555-555-1212. I am covered by ABC Insurance."
The short answer is yes, however, if you feel that the driver went above and beyond in helping you, a more generous tip could be a way to show your appreciation.
If you do decide to tip the driver, a reasonable amount would be $5 to $20, depending on the extent of the service provided and your budget. You could also consider rounding up the bill to the nearest dollar or five dollars as a way to show your appreciation. 
Towing a car can potentially cause damage, especially if it is not done properly. However, with the right precautions and equipment, the risk of damage can be minimized.
Some potential risks of towing a car include: Overloading the towing vehicle or the trailer Towing the vehicle at too high of a speed Using inappropriate or damaged towing equipment Failing to secure the vehicle being towed properly To reduce the risk of damage when towing a car, it is important to use the appropriate equipment and to follow the manufacturer's recommendations for towing capacity. It is also a good idea to use caution when driving, and to avoid sudden stops or sharp turns.  
At Geyers towing we take every precaution possible to avoid damage to your vehicle.